Kittens Available.
24th August 2023
We have two female kittens still available from Pippa's litter . Pippa's kittens were born on the 22nd of July. Pippas kittens are all seal points and are now running aroud all over the place. They have had their 1st F3 vacination and are due to be desexed and microchipped shortly. Please contact us either by email or phone for further details. Email details are as follows.

This email address is being protected from spambots. You need JavaScript enabled to view it.

. Phone mobile number
0456 420 481,

Landline

03 58299395.
All our kittens are reared in our home and given our love and attention in the first 3 months of life, this is important in their interaction with humans, Siamese respond to owners that are prepared to spend the time sharing their affection.
Siamese affections are not defined by colour, gender , or the personalities of their parents, but by owners that are prepared to treat them as part of the family .Every kitten born is an individual , just the same as us , so asking us to predict whether or not they will turn out as affectionate as a previous pet is an impossibility. In a nutshell you GET WHAT YOU ARE PREPARED TO PUT IN.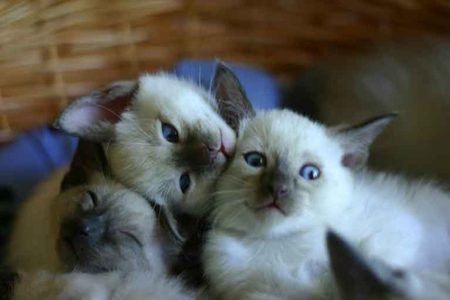 Three Seal Point kittens from a previous litter
Some Rose Marie kittens have also gone to countries such as Switzerland, HongKong, Japan, Hawaii, New Zealand and England.....
We have heard from their owners from time to time and have had some very pleasing feed back.
At 8 to 9 weeks they are vaccinated with their 1st F3 vaciation. They are desexed at 11 to 13 weeks and then they are ready to go to their new homes. For the females please allow 10 days for the stiches from desexing to be removed.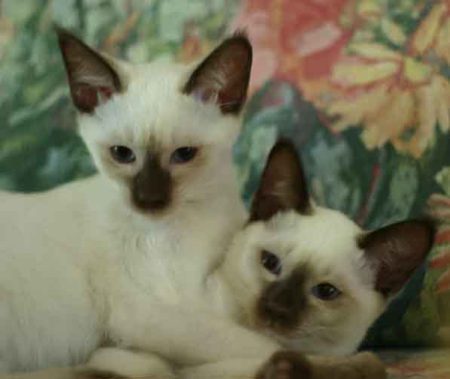 Two beautiful Chocolate Point Females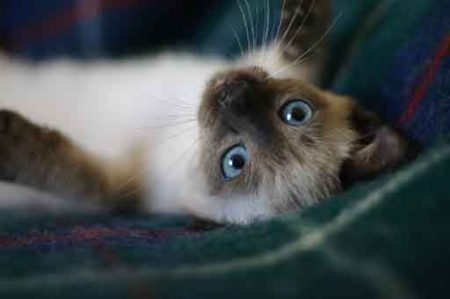 A Seal Point Kitten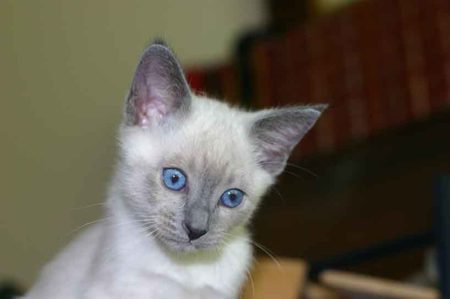 A Blue Point Female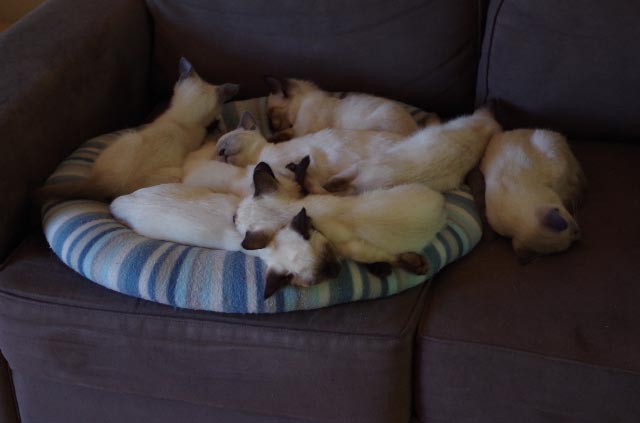 They look delightful as you can see.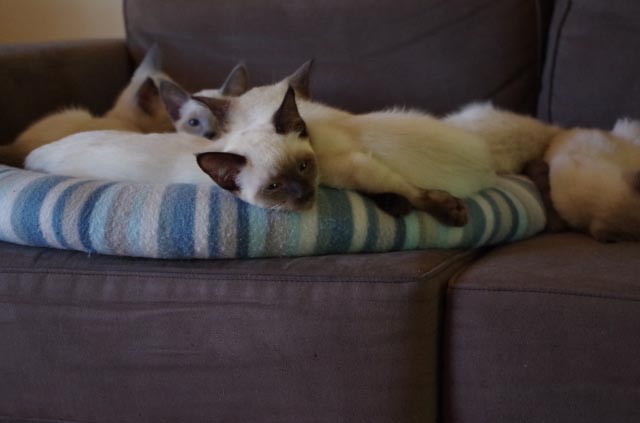 Kittens at rest.
When they wake up and come to life is when we are glad that they are going to loving homes such as yours.
Seven kittens from one of our latest litters. These kittens are now about 5 weeks of age.